Many teachers offer webcam guitar lessons to attract students; but are webcam guitar lessons effective, and are there ways teachers can help students get more out of the experience?
I've taught online guitar lessons since 2009 (see my vintage set up in photo below), and the truth is that there are benefits and limitations. For some students, webcam guitar lessons provide the instruction, inspiration, and accountability that they need. Other students and teachers may discover that the limitations outweigh the benefits.
If you choose to take webcam lessons, my advice is to stay away from teachers who say that webcam lessons are exactly the same as in-person lessons. Look for an honest teacher and you will be better for it. If you're new to teaching online, I hope some of my suggestions will help you make the most out of this teaching opportunity.
Benefits of Webcam Guitar Lessons for Students:  
Transportation costs, commute time, and parking hassles are eliminated.

Students can tune and warm up beforehand, making the most out of their lesson time.

It is more comfortable for students to play in their own home.

It's the safest way to study if you are concerned about illness.
Limitations of Webcam Guitar Lessons for Students:  
It's more challenging to play along with students because of the delay.

Poor connections mean that questions, explanations, studies need to be repeated.

Technology malfunctions, and troubleshooting takes up lesson time.

Your teacher cannot help you with minor instrument repairs, let you try a piece of equipment, borrow books, or observe your technique (other than the small view the camera allows.)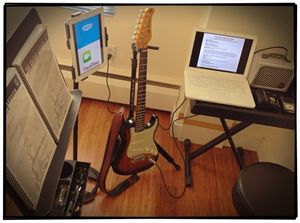 How Can Teachers Make Webcam Guitar Lessons More Effective for Students?
Have a plan for each student before you meet with them online because you won't be able to do some of the things you normally (naturally) do during in person lessons, and be prepared for technological fails by having back up plans.
Specifically...
I email students some pointers before our lesson, including: Call a friend to test the system and make sure they have a set up where I can see both of their hands on the guitar when they play, tune their guitar before we meet, have a metronome ready to use, cue up the

audio tracks

(or

jam tracks

) with the volume at an appropriate level, and make sure others in their home are not using the internet so we have a stronger connection.

I always initiate the call (and I tell students this before we meet) because I book students back to back. Before the lesson, I make sure my set up is good to go, and that includes having a glass of water (or a coffee) close by.

While there is a delay between you and your student, you *can* play together and have it be enjoyable for the student if you let the delay happen on your end. It won't sound awesome to you, but your student can still get something out of the experience. If it's important for you to hear it in time to evaluate, have them record it while you play together and then have them send you the file.

When connections drop or are too shaky for you to evaluate a piece, ask the student to record a video of the piece and email it to you to review. I still have students play the study for me during our lesson so I can check the big parts, but the video is helpful for a closer check.

I email our assignments to students with the date of the lesson in the subject line so we both have a record, and they have an easy thread to use for the week if they have questions or would like to send videos or written assignments.

In the assignment emails, I link to helpful lesson videos from my

Free 5 Year Online Course

, or from the Lesson Libraries for

Volume One

or

Volume Two

of my

Guitar Lesson Companion

method book series.
I'll keep adding to this list, so check back from time to time. Feel free to email me if you have additional suggestions: LeadCatPress@gmail.com
---
Due to COVID-19 in Seattle, I've sent this message to all of my current students for the week of March 8th 2020:
I'm reaching out to let you know that I will be teaching private lessons in my Capitol Hill studio this week but if you don't feel comfortable coming in, I'm happy to work with you over Skype/FaceTime. Since I don't have internet in my studio, I may need to reschedule your lesson to a time when I am at my home, so please let me know if you prefer to meet online ASAP.
Even though I have a compromised immune system, I think my space is large enough and I am taking appropriate precautions to keep it safe:
When you come to the studio for your lesson, wash your hands when you walk into my studio. We will sit a little further apart, and I have tissues handy in case you cough, or you need to touch your face. If you do use a tissue, please toss it in the garbage and wash your hands again.
If you are sick or if you have been exposed to someone who is sick, let's meet online. (I'll do the same for all of you.) As always, I'll be disinfecting the door handles and other surfaces we might share, and the air purifier will be on. I won't be bringing Sharkie to the studio this week, just to keep things simple.
Please let me know if you have any concerns, and I'm looking forward to the music this week. :)
HOW TO MAKE WEBCAM GUITAR LESSONS MORE EFFECTIVE
POPULAR ARTICLES BY SUSAN PALMER
Susan Palmer teaches jazz, blues, and rock guitar styles in Seattle and via webcam. She is the author of The Guitar Lesson Companion Method Book Series, which is used by thousands of teachers and students in over 10 countries, including faculty at Berklee College of Music. Palmer was the guitar instructor at Seattle University from 2006-18, she taught at University of Washington's summer jazz workshop in 2018 and 2019, she was music instructor at Seattle Girls School for the 2016-17 school year, and she created and taught, "The Rock Project" at Cornish College of the Arts from 2010-15. Palmer's current and former students perform regularly throughout the country, including these Seattle venues: The Comet, The High Dive, Bumbershoot, Skylark, Neumos, The Hard Rock Cafe, Chop Suey, The Tractor Tavern, The Rendezvous, The Sorrento Hotel, The Crocodile, The Mix, Cafe Racer, The Edgewater Hotel, The Sunset, and more.