September 2023 Newsletter
Hello, Fellow Guitar Players!
I've been so busy teaching private lessons, shipping books, and preparing for my guitar studio's cross country move this month that I am just now finding a moment to reach out and see how you all are doing.
I want to thank the folks who have checked out my Studio Sale, where I've been offering books and equipment, in exchange for a donation to my guitar studio. I've met some wonderful Maine musicians, and shipped a few items to students, all while making my move a little lighter.
I coordinated the move so it will not conflict with my private lesson schedule, but like I mentioned in my previous newsletter, the 4 week classes have been put on hold for the month of September. I'm offering one FREE Online Small Group Guitar Class this month, and details are below.
MY TEACHING STUDIO WILL REMAIN ONLINE, BECAUSE IT'S HIGHLY EFFECTIVE
I have had hopes of being able to teach "in person" a few days a week in Seattle and dreams of reopening my physical guitar studio on Capitol Hill, but I cannot take the risk while COVID is still circulating, harming people, and causing so many disruptions in our communities.
The good news is that my online studio is thriving and it's been such a gift to be able to work with people all over the world! If you know me, you know my #1 concern is providing the best lessons I possibly can to each student, and I wouldn't continue teaching online if it wasn't effective. Here's some proof, a recent review from Sarah Eitel:
I'd been following Susan on social media for a while, and I was very drawn to her amazing guitar playing, upfront teaching style and relaxed personality. It was May, and I had an upper division jury at the end of the summer. My college professors gave me several things to work on, and I needed to find a teacher who could help me improve on those points within an extremely short, three month time span. Immediately after our first lesson, I felt supported by how specific she was in her weekly lesson plan. I was given very concrete things to work on each week, and I was encouraged to send recordings in between lessons and ask if I was grasping the concepts properly. Susan also has the perfect balance of praise and criticism. Study after study shows that people learn and improve more when they're encouraged. There aren't enough instructors in the world that understand how to make students feel supported while also helping them move towards their goals. Susan is a rare breed in that she does just that. She also gave me advice and tools on managing my performance anxiety. I ended up passing my upper division jury, and my professors commented on how much I'd improved. Even if I didn't pass my jury, I would have still given Susan a glowing testimonial because she is the best teacher I've ever had. I will forever be changed by Susan's teaching. 
FREE SMALL GROUP GUITAR CLASS 
Saturday, September 16th  10:15am - 11:00am  (Pacific Time)
In this month's free class, I'm offering a crash course for beginning guitar players. We'll go over the basics, including tuning, warm ups, how to learn your first chords, and reading standard music notation along with TAB. All learning materials will be provided to you, class is limited to 4 students age 16 and up who have their own guitars.
Registration Deadline: Thursday, September 14th 
Email to Register: LeadCatPress@gmail.com
BOOK SALE FOR MY FELLOW GUITAR TEACHERS
Distribution of "The Guitar Lesson Companion" method books will be offline during my transition to the west coast, and I want to make sure that your students have the materials they need for your classes and lessons. My current offer is a 6 book package for teachers in the United States. Please email me for details: LeadCatPress@gmail.com before September 20th.
If you are a student of guitar and you'd like to order a book, please do so ASAP as I'm limited to my stock on hand until mid October.
WHAT'S NEW ON YOUTUBE
I created a new page to house my series What's Happening in My Studio to make it easier to find specific topics I've covered. There are a few new episodes since my last newsletter, and I hope you enjoy them.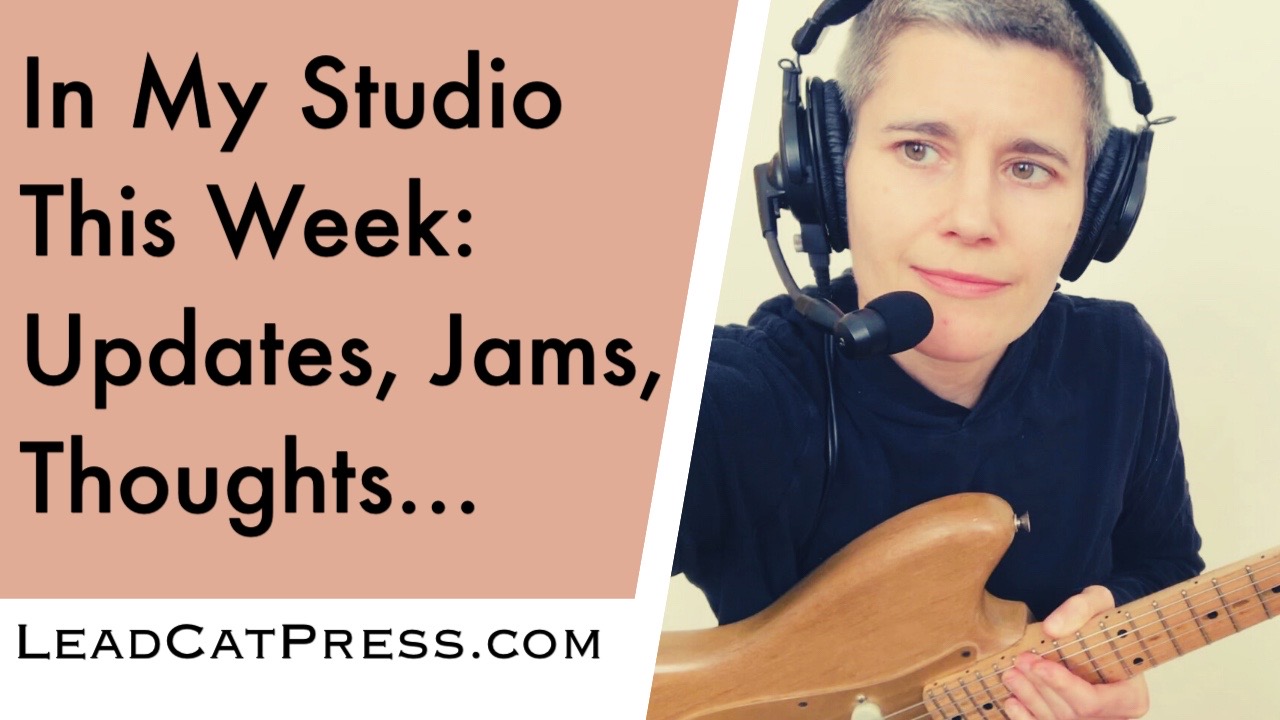 THANK YOU FOR YOUR SUPPORT
When you use this link to make purchases on Amazon, up to 8% of your total order is added to my scholarship fund. When you practice with videos on my YouTube channel, you are funding more free classes and book giveaways. And if you purchase courses or a subscription to Truefire, you are learning some killer concepts that I can help you apply to your own music in your lessons, and, you are letting me know that you also believe we can make music education more accessible.
I hope practice and playing is going well, and this feels like the right time to get some expert coaching to help you level up (or begin!) your guitar playing, please reach out about private lessons or these small group classes. I look forward to hearing from you!
Susan Palmer of LeadCatPress.com