POPULAR CHORD PROGRESSIONS TO HELP YOU GET STARTED WRITING SONGS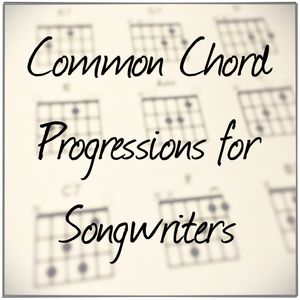 I had a basic chord diagram book when I was learning how to play guitar and the chords were grouped by key. I would spend hours playing chords in different combinations, and I would often stumble upon sequences that sounded like a song I had heard on the radio. Sometimes, it was easy to recall the name of the tune, and other times the chord progression just sounded *really* familiar. It turns out, there are a handful of chord progressions that are used in thousands of popular songs.
I really enjoyed the slow process of discovering each progression by learning cover tunes and writing my own songs using them, but I can also see the value in exploring them in a more systematic method. As part of a basic music theory class I teach that covers major scale harmony, I offer these common chord progressions to students as "jumping off points" for beginning songwriting and ear training exercises. Students are asked to transpose chord progressions to different keys, and customize the instrumentation, groove, tempo, dynamics, and melody.
I made a free playlist on the iReal Pro App so you can jam, transpose, and really get to know these chord progressions. Click the link below on your device that has the iReal Pro app installed, and you can download the playlist. If the link isn't working, please email me and I will send the playlist directly to you: LeadCatPress@gmail.com
Explore these chord progressions and see if you can hear some songs in them. I've listed one song next to each progression that uses each chord progression (but it may be in a different key.) Transpose them to different keys by referring to the Harmonized Major Scale chart in your book (or handout if you have taken one of my classes.)
| | | | |
| --- | --- | --- | --- |
| Chord Progression | Chord Progression | In the Key of C | Song Title |
| I vi ii V | 1 6 2 5 | C Am Dm G | "Heart and Soul" |
| I vi IV V | 1 6 4 5 | C Am F G | "Blue Moon" |
| I vi V IV | 1 6 5 4 | C Am G F | "You Live, You Learn" |
| I IV V vi | 1 4 5 6 | C F G Am | "The Warrior" |
| I IV vi V | 1 4 6 5 | C F Am G | "Stay, Stay Stay" |
| I IV I V | 1 4 1 5 | C F C G | "Brown Eyed Girl" |
| I IV V IV | 1 4 5 4 | C F G F | "Wild Thing" |
| I IV ii V | 1 4 2 5 | C F Dm G | "Run Around" |
| I iii ii V | 1 3 2 5 | C Em Dm G | "Melody" |
| I iii IV V | 1 3 4 5 | C Em F G | "Man in the Mirror" |
| I iii vi V | 1 3 6 5 | C Em Am G | "Run Away Train" |
| I V vi IV | 1 5 6 4 | C G Am F | "With or Without You" |
| I V ii IV | 1 5 2 4 | C G Dm F | "Closing Time" |
| I V iii IV | 1 5 3 4 | C G Em F | "The World Has Turned…" |
---
Susan Palmer teaches jazz, blues, and rock guitar styles in Seattle and via webcam. She is the author of The Guitar Lesson Companion Method Book Series, which is used by thousands of teachers and students in over 10 countries, including faculty at Berklee College of Music. Palmer was the guitar instructor at Seattle University from 2006-18, she taught at University of Washington's summer jazz workshop in 2018 and 2019, she was music instructor at Seattle Girls School for the 2016-17 school year, and she created and taught, "The Rock Project" at Cornish College of the Arts from 2010-15. Palmer's current and former students perform regularly throughout the country, including these Seattle venues: The Comet, The High Dive, Bumbershoot, Skylark, Neumos, The Hard Rock Cafe, Chop Suey, The Tractor Tavern, The Rendezvous, The Sorrento Hotel, The Crocodile, The Mix, Cafe Racer, The Edgewater Hotel, The Sunset, and more.