SUSAN PALMER'S 

CAPITOL HILL

 

GUITAR STUDIO HAS MOVED ONLINE, DUE TO COVID-19.
Private Lessons & Classes on Webcam | Ages 10+ | Acoustic or Electric | Fundamental Skills | Jazz, Blues, Rock | Pick-Style | All Levels
Contact Susan Palmer: LeadCatPress@gmail.com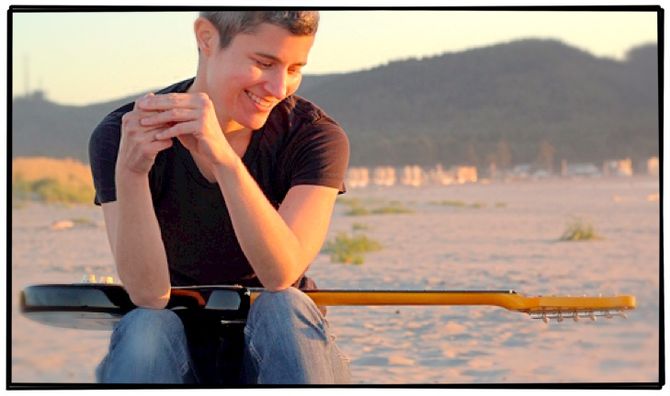 My guitar teaching career began when I was 14, and it continues to be a great source of joy in my life. I love the variety of musicians I get to work with each day.
I am a little different than other guitar teachers because I teach the fundamentals of music using a clear structure that I tailor to each student's goals and learning style. 
Students develop a strong skill set to use in all kinds of musical situations, and many of my students perform all over the country, in various styles, earning their living from music.
PRIVATE LESSONS, ALL ONLINE DUE TO COVID-19
Beginning - Advanced Level Private Guitar Lessons:  
One of the things I love about the guitar is that I don't think it can be mastered. While there is a finite amount of information you need to learn to become a good player, there are always new ways to see and apply those concepts. Everything always comes back to knowing the fundamentals of music, and I help students effectively master those practical fundamentals in a fun and supportive environment.  
Please email me at LeadCatPress@gmail.com to see if I have a morning, afternoon, or evening lesson time that works for you. Please include a little background information about your music experience as well as your goals, and what you hope to get out of guitar lessons at this time. If I don't think I'd be a good fit for you, I can recommend another guitar teacher. 
GUITAR CLASSES, ALL ONLINE DUE TO COVID-19.
Email to sign up: LeadCatPress@gmail.com
I offered beginning, intermediate, and advanced level small group classes at my guitar studio on Capitol Hill each month for about a year and a half until COVID-19 shut us down. I am now offering group classes again online only, and you can learn more about the classes, including when to register, by signing up for my monthly newsletter.

The way I categorize students is based purely on each guitarist's understanding and application of fundamental guitar skills, and students are asked to complete a self-assessment questionnaire so I can place them in the class that best matches their experience, interests, and goals. These questionnaires also help me develop the curriculum for each class, which is why the descriptions here are general. 
The 4 week classes provide structure and clear assignments during the course, and I also give direction for how to practice (and what to practice) after the class ends. Throughout the course, students are encouraged to email videos each week of their assignments so I can offer personalized attention.
4 WEEK BEGINNING LEVEL SMALL GROUP GUITAR CLASS
Saturdays, offered each month
12:00pm - 12:55pm (Pacific Time)
$175, (you must own The Guitar Lesson Companion, Volume One) 
Since I group students according to their shared experience level, sometimes this class is full of absolute beginners, and sometimes it's composed of guitarists who may have been playing for a few years but never learned the fundamentals as well as they'd like to know them. Our specific lesson plan is determined after I receive student questionnaires from enrolled students, but will generally include concepts in years one and two from my online course.