GET MORE OUT OF YOUR LESSONS & MORE OUT OF YOUR GUITAR!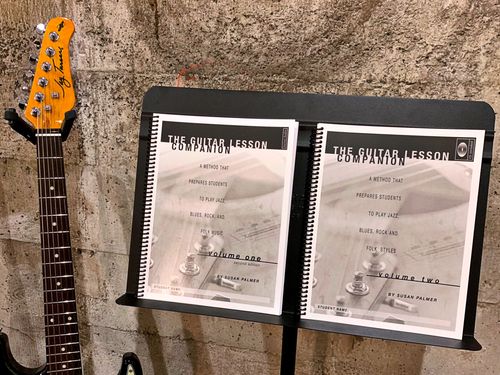 WHAT MAKES IT SO MUCH BETTER?  
 √ COMPREHENSIVE fundamental studies for guitarists of all ages who play jazz, blues, and rock
 √ PROGRESSIVE format takes absolute beginning guitarists step by step into the advanced level  
 √ EXTENSIVE reading, chord, and improvisation studies, enhanced with online Audio Tracks  
 √ WORKSHEETS help students gain a thorough understanding of notes, theory, chords, and improvisation  
 √ SPIRAL BINDING keeps this book open on your music stand  
 √ FREE ONLINE LESSON LIBRARY covers all the topics in the books Volume One and Volume Two  
 √ FLEXIBLE FORMAT for students taking group or private guitar lessons
WHICH BOOK IS RIGHT FOR YOU?
The Guitar Lesson Companion, Volume One
Read music and develop good technique from open through 12th position

Master chord changes using open, power, barre, 7th, extended, and altered chords

Understand of music theory on paper, and on your guitar

 Create catchy rhythms and grooves using triad inversions with embellishments

 Solo using patterns from the CAGED system with the  Audio Tracks

 Be able to figure out what key a song is in, or write songs in specific keys
The Guitar Lesson Companion, Volume Two 
Understand college level music theory concepts 

Unlock the fretboard by studying triad and 7th chord inversions 

Master the chord tones (arpeggios) in all positions, all keys

 Use a clear, progressive structure to see the design of the guitar

 Play walking bass lines, quartal harmony, altered chords and resolutions

 Train your ears while improvising with 8+ hours of backing tracks
FREQUENTLY ASKED QUESTIONS FOR GUITAR STUDENTS: 
Do I need to complete Volume One before starting Volume Two? 
Most students will benefit by completing Volume One before they start Volume Two, but your teacher may decide that Volume Two is a better fit for you. If you are brand new to the guitar, I recommend Volume One. If you have been playing for a while, you can apply the CAGED system to chords and scales and you know how to read standard music notation, or you are not interested in learning standard music notation, your teacher may recommend Volume Two for you. 
I can't afford guitar lessons right now. Can I learn guitar with these books and free videos on my own? 
The best way to learn how to play the guitar is to study with a good teacher, and this series of method books was specifically designed for students who are taking guitar lessons. If you do not have the opportunity to learn from a teacher right now, the Free 5 Year Guitar Course will help you work through the book on your own. 
I can't find a good guitar teacher in my area, what should I do? 
There are lots of teachers, including myself, who teach "webcam guitar lessons." If you have a computer with a camera and high-speed internet, you can email me to sign up for online lessons using a webcam. 
If I use these books with my teacher, how long will it take me to get good? 
That depends on your practice habits and your goals. This book will definitely help you become a better player because it contains the concepts that you need to learn in order to play a lot of music. You will save time if you use this book because it breaks down challenging concepts and walks you through each one, step-by-step, so you learn the material right the first time. 
Won't learning all this stuff make me sound unoriginal? 
If you learn the fundamentals of music, you will be able to play more songs in a shorter amount of time, and you can apply those skills to whatever songs you want to play. If you know the fundamentals of music, you will be able to express yourself more clearly, and understand your fellow musicians easier. 
Without training in the fundamentals of music, you will eventually reach a road block and need to come back and learn the fundamentals to overcome it. Yes, there are a handful of absolutely amazing guitarists who did not study music, but they are not amazing because they did not study music. 
Why should I buy these guitar method books when I can purchase a cheaper one? 
These are better books and a better value. They contain more concepts and exercises than the competition's series; so if you buy these guitar method books, you will save money. You will improve faster with these books because the unique and flexible structure will help you and your teacher stay on track and make the most out of your lesson time together. The studies also sound better, especially with the Audio Tracks, which will make your practice time more fun for you. 
FREQUENTLY ASKED QUESTIONS FOR GUITAR TEACHERS:  
I already have a system for teaching, why do I need my students to purchase these books? 
"The Guitar Lesson Companion" series helps you teach your way, only better. I know that you've got a unique way of prioritizing, explaining and applying musical concepts to your students, and I know that you want your students to get the most out of their lessons with you. You and I would probably agree that there are certain concepts that are important for all guitarists to know, and these books make it easier for our students to master them. 
This series provides a basic road map for teaching and plenty of progressive exercises that sound cool, so your students will learn them faster. If you already teach the fundamentals of music: Reading, Chords, Theory, and Improvisation, these books will truly complement your style. When your students use these books with you, there won't be anymore crumpled-up, disorganized pieces of paper in your students' guitar cases, and you won't be spending all your time planning lessons and assignments for each student. 
I know this stuff is important, but how do I convince my students to learn it? 
Explain to your students that a person with a solid foundation of music skills can play more songs and be a more adaptable and creative guitar player. Talk to them about the guitarists they admire and point out the skills that make each player great. Tell them that with these books, you can help them learn those skills quickly and effectively. 
I only teach songs to my students, why should I change? 
You want to keep your studio full of happy and successful students, and if you use a more effective method to teach people the songs they want to play, you will attract more students. If you teach people to understand music on their instrument, you will gain the respect of other musicians, who will refer new students to you. If you use a clear system that keeps students on track and learning new concepts each week, your students will stay with you for longer periods of time.
How do I assure my students that these guitar method books are cost effective? 
Show them that it contains more concepts and exercises than the competition's entire series; if they buy this book, they will save money. Tell them that this book was specifically designed for students who are studying with a teacher, so it will help both of you make the most out of your lesson time. Finally, play one of the studies with the Audio Tracks from this book, and then compare it to a study from another book and ask them which one inspires them to practice. 
What if I don't know all of the concepts well enough to teach them to my students? 
Check out the Free 5 Year Guitar Course or the Lesson Library for Volume One and Volume Two if you need help understanding a concept, or if you would like a suggestion on how to teach the concepts to your students. You can also email me for advice. 
Do you have a sample lesson plan I can use with my students? 
Yes, I offer a 5 Year Weekly Guitar Lesson Guide for free.