Hello, Fellow Guitar Teacher!
Teaching guitar is not an easy gig, but it's a very important part of what we do as musicians. While we each have a unique way of prioritizing, explaining, and applying musical concepts, most of us agree there are certain concepts that are important for all guitarists to understand.
The Guitar Lesson Companion series has all the fundamental concepts, and it organizes them in a way that makes teaching easier, more effective, and fun. Unlike other method books, this method book series takes you and your students seriously!

Most Guitar Method Books: 
+ Don't have enough exercises 
+ Use exercises/songs that are not fun or very effective 
+ Cut corners and skip or brush over important concepts 
The Guitar Lesson Companion Series:
+ Gives you a flexible, clear, structure that doesn't tell you how to teach 
+ Contains all the important concepts, with tons of good sounding exercises 
+ Each have a spiral binding, so the books stay open on your music stand 
Learn more about: The Guitar Lesson Companion, Volume One 
Learn more about: The Guitar Lesson Companion, Volume Two
Whether you teach private lessons, group classes, webcam lessons, or in a school, this method book works with your teaching style and your students' needs.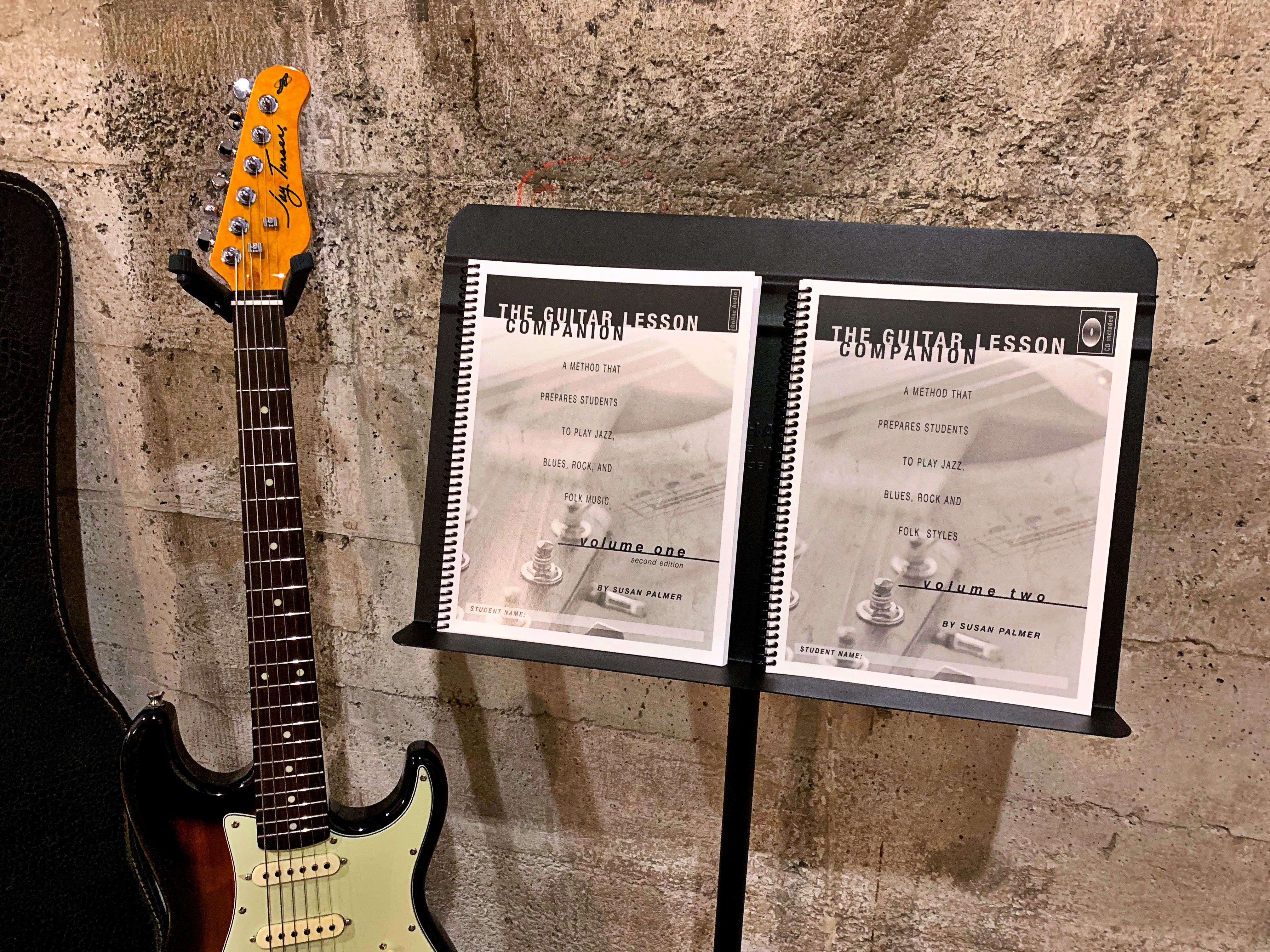 What Guitar Teachers Are Saying:
Adam Levy, Guitarist, Composer, and Instructor:
I've been working through "The Guitar Lesson Companion, Vol.1" over the past two weeks. Loads of great material, presented thoughtfully. Palmer has clearly spent a lot of time working with students, as the resources here are exactly the sorts of things that guitar instructors lean on regularly: open-position chords (and transitioning between them), learning the notes on the fretboard, pentatonic scale patterns, chord theory, rhythm workouts, and so on. Whether you're an avid student or a dedicated teacher, I'd recommend this book as a keystone of your practice.
James Erickson, Guitar Instructor at Long Island University, New York:
As a guitar teacher, one of my long-standing issues has been finding a complete method to get students started on a path that balances sight reading and theory. Finally, after years of selecting from several method books, I now have a complete source for my students.
This book checks all the boxes for students learning the fundamentals of the instrument. The material is presented in a very thoughtful pedagogical approach. The play-along tracks are beneficial for students to develop their rhythm and reading skills. Oh, and did I mention spiral bound! Finally, a book that will stay open on my music stand.  
Mark Goldenberg, guitarist/composer/producer: 
Your book has been so helpful for my students! It's so well put together and has become an invaluable aid for getting my students to learn to read notes, decipher written rhythms, and to learn the entire fretboard. Your backing tracks are especially great and give the material a cool contemporary feel. I'm so grateful I found this book!
Lyle Brewer, Faculty at The Berklee College of Music:
The Guitar Lesson Companion, Volume One is one of the most comprehensive method books for guitar that I've ever seen and it's really, really good. It goes through everything, but what's great about this book is that there's a heavy emphasis on how to read. 
If you're interested in learning how to play guitar in a way that would get you ready for music school or get you ready for jobs where you have to be sight reading a lot, or if you're a guitar teacher looking for a book for your students, I can't recommend this book enough.
Jonathan "Dr. Capital" Patterson, DMA:
Former college music professor: University of Southern California, University of North Texas, Musicians Institute
I have taught guitar for 35 years in my private studio, local music schools, elementary through high school programs, YouTube online lessons, and several colleges and universities. For years I struggled to find a comprehensive teaching method book that could work with all types of students. Frankly, I generally found that method books were only good at teaching note reading and basic chords, so I always supplemented these with my own materials about scales/theory/improvisation--often handwritten on the spot mid-lesson--along with teaching students the songs they liked.  

Learning with a book is really important for overall organization and the student's connection to the learning process. The less supplemental materials you need to create, the better. This is what I love so much about "The Guitar Lesson Companion" series. Each book is comprehensively full of vital content that is so well-organized, easily replacing several levels of any other available method series and eliminating the need for a mess of scattered supplemental pages.  

In Volume One, Susan thoroughly covers the technical and theoretical fundamentals that all guitar styles have in common and ties it all together into a continuous system that is easy to understand and immediately practical. When a student is stronger in one area than in another, I can approach the area that needs work by showing the student how it connects to what they already do well. Because of these connections I find that ALL of the material included is useful for all beginner-intermediate, and even many advanced students.  

Susan Palmer's book solves all my materials and organization problems and lets me focus on actually teaching. I strongly recommend "The Guitar Lesson Companion, Volume One" for individual and class lessons for students of all ages and levels. 
 
Mai Li Pittard, Pro Musician and Teacher: 
I just had the chance to really explore and review Susan Palmer's new guitar text, and I feel so lucky to get my hands on it. 
As a classically trained musician who teaches privately, while playing actively in many different styles of music locally and on the road, I have to admit I'm picky about texts I give to my guitar students. I know a lot of players are shy about reading and theory, but it's so important, so finding the right way to present that material–not watered down, but not too much at once to scare them off or scar them– is really tricky. And it's just as important as all the critical ear, motor, and improv skills every guitarist needs to function. Most of the texts I've seen *work*… as in, are typically something to give the student a routine and flexibility to work at their own pace, and I make it work with heavy adaptations in lessons. But the layouts are often not intuitive, pacing doesn't make sense, it relies too much on backing tracks or the tracks are terrible, or certain key skills are left out, leaving you to either improvise your own approach or skip the material. 
But this text really has it all. This is 2 books in one– part 1 is reading skills and lead playing starting simply, simple rhythms, adding one string at a time in 1st position, and slowly building in complexity until practicing reading in higher positions, slowly working up the fingerboard until it's completely mapped. Part 2 is chords, comping, and theory, and it's got everything– starting at basic chord drills and simple shuffles, and working it's way through different scales and building chords off them, learning a gamut of basic textures in a broad array of common styles (blues shuffle, punk rock downstrokes, Travis picking, etc). It's all there. And there's a lot of worksheets for note identification and theory embedded as you go, along with 127 backing tracks that are creative and interesting harmonizations of the exercises, and make them more fun to play along to. 
I can't recommend this text enough; it's well-laid out, it progresses at a reasonable pace, and everything you could possibly want to cover for a versatile skillset is included. It's dense in some parts, but the places where you're likely to sit on a page for a week digesting exercises are very much like any etude or exercise book. It all makes sense, it has everything you need, and it's written by an awesome local female guitarist who teaches guitar at SU, so you're supporting local artist and a female musician. And it's really affordable, especially considering it's depth and breadth. 
Get this book. I swear to god you won't go back to making other books work. This is the one to get. 
Magdalena Abrego, Pro Musician and Teacher:
I have been teaching private guitar lessons for nearly a decade to students of all ages, and I spent the majority of those years frustrated with the method books available for beginner and intermediate students. Often, I was forced to pull together excerpts from multiple method books in an effort to address all the important foundational skills involved in learning guitar for the first time. Other times, I simply settled for a book that left something to be desired for both me and my students.
Then, I discovered "The Guitar Lesson Companion, Volume One." I highly recommend this book to my fellow guitar instructors out there. Whether you're teaching one-on-one lessons or in a group format, this book will prove to be an essential resource. One of the aspects of the book that I appreciate most is the pacing. The wealth of material in this book moves at a helpful pace of growing difficulty in a way that provides a natural experience for the teacher and the student.
As a Berklee graduate who has embraced the rigor of becoming a well-rounded instrumentalist, I am very passionate about ensuring that my students have everything they need to excel on their instruments and learn the skills necessary to play any style of music. In this way, "The Guitar Lesson Companion" is an excellent teaching tool in that it covers a wide range of foundational material while also remaining focused on content that is appropriate for the beginner/intermediate player.
Utilizing this book, from day one, with a student, will prove to be immensely helpful for any teacher, and I cannot recommend it enough! 
---
Discounts for Professional Guitar Teachers:
I help my fellow guitar teachers get these books to their students by offering teachers a discount on 6 book packages. Email me for details on how to get FREE SHIPPING and more: LeadCatPress.com
---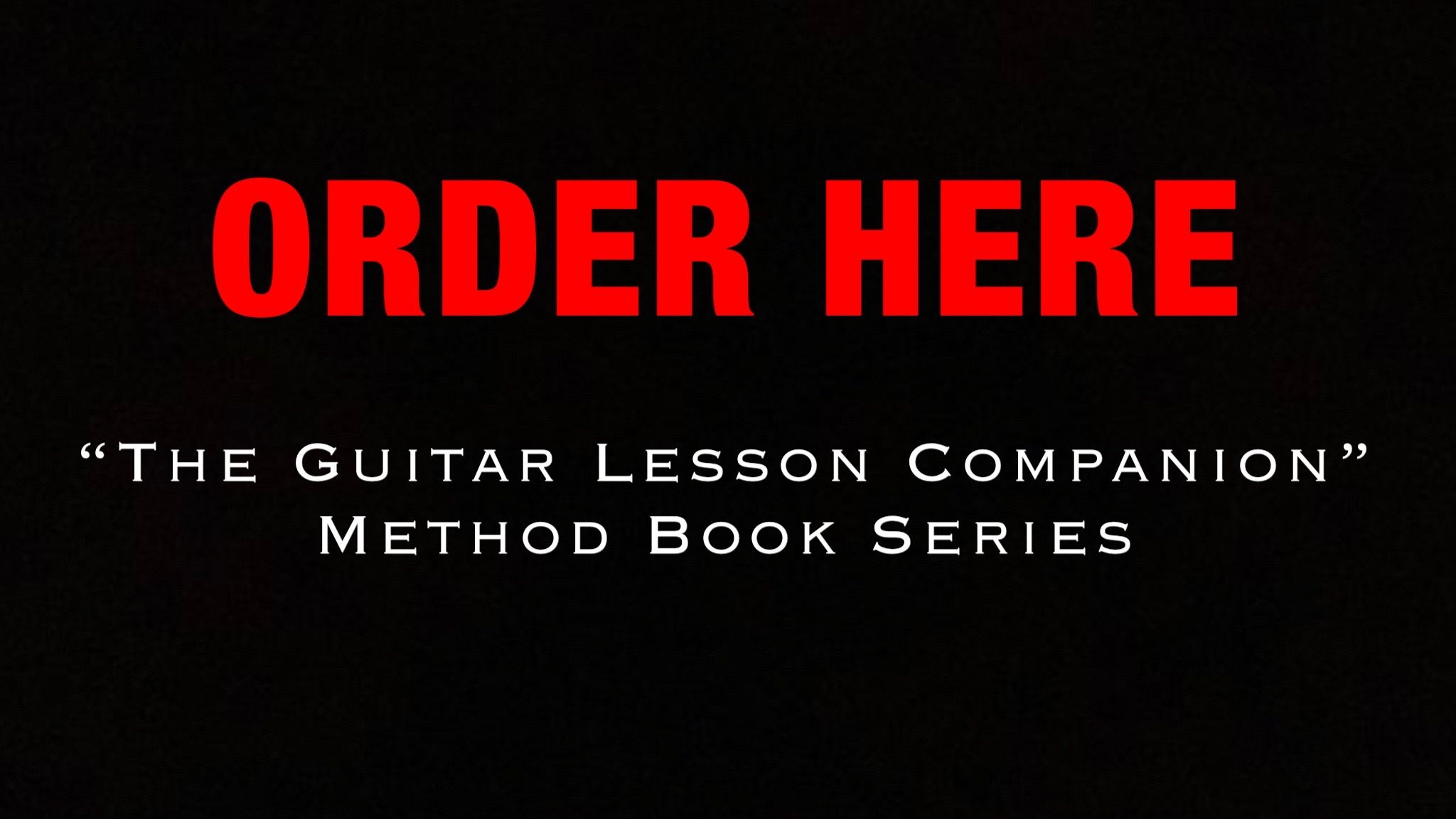 Questions? Let's Meet!
Do you think this might be a good book for your students? Let's set up a meeting via Skype or FaceTime so I can help you figure that out. Email me: LeadCatPress@gmail.com
Susan Palmer teaches jazz, blues, and rock guitar styles via webcam (due to COVID-19.) She is the author of The Guitar Lesson Companion Method Book Series, which is used by thousands of teachers and students in over 10 countries, including faculty at Berklee College of Music. Palmer was the guitar instructor at Seattle University from 2006-18, she taught at University of Washington's summer jazz workshop in 2018 and 2019, she was music instructor at Seattle Girls School for the 2016-17 school year, and she created and taught, "The Rock Project" at Cornish College of the Arts from 2010-15. Palmer's current and former students perform regularly throughout the country.
POPULAR ARTICLES BY SUSAN PALMER